I Finally Met Someone Who Loves John Hughes More Than Me
According to my recent calculations, I haven't written a John Hughes post in almost five months.
It's concerning to me as well. 
If you are a regular reader, you will know that I have a love for John Hughes and his films probably like no other person you have ever met.
It started with this article that I wrote for Chicago Parent.
Well, it didn't "start" with the article but rather I came out of the closet as it pertains to my obsession with all things Hughes. Not that there was anything to hide or be ashamed of. I love his movies, I like him as the person he seemed to be and I quote lines from all of his movies but mostly sticking to "AUTOMOBIIIILLLE" and "can you describe the ruckus sir?" and sometimes even working a "CALL ME SIR GOD DAMMIT!" into regular everyday conversation.
Then I let my guard down and wrote about my need for a John Hughes museum; about my visit to his former home with the bridge club women; I gave you step-by-step instructions on where to stalk find all of his movie filming locations; I told you about my possible conspiracy theory of being stranded on a deserted island with him; about how I got really pissed off at some foreign tourists who disrespected Ferris Bueller; and how I will never read a book about John Hughes again. (Thanks again for that, Susannah Gora) 
John Hughes is "my thing".
That sounded way less dirty in my head. 
So last year when I heard rumblings about a Ferris Bueller Festival, I was really intrigued.
I was also really late to the party and really broke, so no go to the Ferris Bueller Festival for me.
But a few months ago, I had four friends simultaneously share this to my Facebook wall:
First, I'm touched that my friends and family associate John Hughes with me.
Second, I didn't know about it BUT this time around I had the inside edge because I didn't find out about it like, the day before.
And third, HOLY SHIT THERE IS A JOHN HUGHES FESTIVAL?? I NEED TO BE A PART OF IT.
But I didn't want to look desperate.
So I did what I do best.
Overcompensate with self-deprecating humor.
On social media.
#Duh
I tweeted the creator of the festival which is highly unlikely of me because I normally don't like rejection and I especially don't like rejection with 1500 people looking on.
I put it out there and waited for the crickets to chirp in my general direction.
They didn't chirp.
I got a response right away and was told to email the creator, David.
I emailed him within seconds and basically said that I wanted to be part of the festival.
I will play Carl the janitor for all four days and sweep up Andrew McCarthy's crumbs, ANYTHING.
We eventually had a phone conversation and it was within that conversation that he asked if I would be interested in being on one of the buses giving tours of the movie locations for all four days.
He doesn't know this but as he was asking me I was jumping up and down while biting my cheek not to scream.
And possibly doing the ugly cry.
So there is gonna be a party in Lake Forest, Illinois this June and I want you to be there, you John Hughes loving freaks.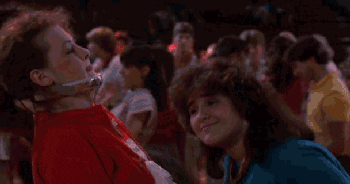 But before I get to the details of the event, I want to introduce you to my new friend, David Blanchard, creator of Ferris Fest and now The Shermer Club: A John Hughes Fest.
I recently asked him a few questions to give all of you some background and get a better idea of what the festival is about!
What do you do when you aren't planning the most spectacular festivals in all the land? 
I had been working as a trailer editor in the film industry. Although I decided over a year ago to give that up and dedicate myself to growing my company, which I started in the middle of preparations for FERRIS FEST.
How did you come up with the idea for these festivals? 
I was just sitting in front of my computer one day in October 2015 thinking about the fact that 2016 was the 30th anniversary of FERRIS BUELLER'S DAY OFF. I suddenly asked the question, "why was it apparent that no one was doing anything in acknowledgment of the milestone for this globally beloved John Hughes film?" Then I said, "Well, why don't I do something?" I had never mounted a major event such as that before, although when I told friends about my idea, they offered their learned services and help. Some had worked events before while others were experienced with talent relations, etc. and it grew from there. My thoughts about putting together a John Hughes celebration go farther back than that; probably at least 6 years ago when I asked why, when there was some type of event or acknowledgment for so many movies, TV shows, and pop culture happenings, was there no major festival in honor of the adored Chicago writer/director and his iconic 1980's teen films. When FERRIS FEST was such a huge success, my attention immediately ran to remedying that situation by putting one together myself.
Why are these festivals important to you? 
Hosting a John Hughes event such as this, like with FERRIS FEST, comes from a deep passion for John Hughes cinematic work. I saw his teen films back in the '80s when they debuted in theaters, and they've stuck with me each and every day since. It's the great characters, situations, and dialogue Hughes brings to each of his films; some more than others, that spoke to me like nothing else. This upcoming event is a way to share with the fans our love for John Hughes and how what he put on-screen has touched all of us.
 Can you explain the "immersive" experience that you describe when talking about the festival? 
What's a key element of this event is being able to step right into one of John Hughes' films. Anyone can rent a group of buses and go to filming locations while pointing out the window to explain what happened here or there and in what movie. But the tours we will be giving fans allows everyone to step off of those buses, get as close to the locations as possible, with professional actors portraying characters from Hughes movies re-creating scenes everyone has seen so many times before. But to bring them to life on the exact spots where they shot connects the audience and surrounds them with the movies themselves. Who wouldn't want to step into a movie? The overall event, which includes the cast members that will be our guests, the bands coming to perform, the venues where we'll be holding these events- they all cost money. We are not a big company or corporations. We're just a group of passionate fans who want to give attendees the absolute best time, while in a grass-roots capacity must rely on ticket sales to actually make the event happen. The ticket money goes right back into making this entire celebration a reality! Without the fans purchasing tickets, there could be no such event. 
Will I be able to get up close to the celebrities at the festival? 
Yes, there will not only be lengthy Q&A's during all the screenings over the course of the weekend, but attendees will be able to meet the stars, get autographs and pose for photos, while also having the opportunity to converse with them and learn more about the making of the John Hughes movies they appeared in.
Lastly and most importantly, what is your favorite John Hughes movie and why? 
That's a really tough question! Out of all the films, there are a number of favorites. I'd have to say that The Breakfast Club and Ferris Bueller's Day Off are neck and neck when it comes to favorites. They're both very different, yet resonate the most for me.
Now that you have gotten to know David, let's talk details!
When: Thursday, June 22nd- Sunday, June 25th, 2017
Where: Lake Forest, Illinois (the hub of the event which is also where John Hughes lived and is laid to rest)
Who will be there: Anthony Michael Hall (Rusty Griswold from Vacation, Farmer Ted from Sixteen Candles, Brian Johnson from The Breakfast Club, Gary from Weird Science) ; Gedde Watanabe (Long Duk Dong); John Kapelos (Carl the Janitor from The Breakfast Club); Ian Mitchell Smith (Wyatt from Weird Science); Andrew McCarthy (Blaine from Pretty in Pink); Lea Thompson (Amanda Jones from Some Kind of Wonderful); Howard Deutch (director of Pretty in Pink, Some Kind of Wonderful and The Great Outdoors among many others); Craig Sheffer (Hardy from Some Kind of Wonderful); Cindy Pickett (Katie Bueller from Ferris Bueller's Day Off).
There are so many activities which include concerts with the bands Sixteen Candles and Blue Room; screenings of The Breakfast Club and Q&A with ANTHONY FREAKING MICHAEL FREAKING HALL and CARL THE FREAKING JANITOR; Filming location tours (SEE YOU ON THE BUS!!); Sixteen Candles and Weird Science double feature screening and Q&A with CARL THE FREAKING JANITOR AND FREAKING WYATT, Y'ALL; re-creations of scenes during the filming location tour (please let me kiss Jake Ryan, WHUT??); Pretty in Pink and Some Kind of Wonderful double feature screening and Q&A with …get ready for this FREAKING ANDREW MCCARTHY, LEA THOMPSON, HOWARD DEUTCH AND CRAIG SHEFFER.
And my personal favorite: GEDDE FRIGGIN' WATANABE.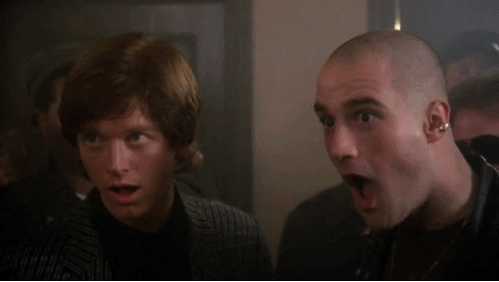 I really don't want to fangirl but man, I may have to use a few of my rarely used movie quotes on him.
 I WON'T.
Probably.
There is so much more including the last scene of Sixteen Candles being recreated which might put me over the edge. But to paraphrase the immortal words of Annelle from Steel Magnolias, I promise that my excitement will not interfere with my ability to do good hair. Or guide a tour bus.
Whatever.
Head here to get your tickets now because they are going fast and YOU NEED TO BE THERE.
But before you do, I have something for you!!
I am giving away one two-day ticket to the festival!!!
THAT IS RIGHT! ONE OF MY FREAK-A-ZOIDS IS GONNA BE RIDING THE BUS WITH ME!!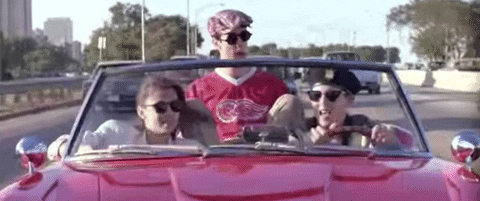 Editor's Note- This giveaway is now over. 
Good luck and I will see you in June!
*The tickets are for two separate days: one is for Saturday, June 24th and the other is for Sunday, June 25th. The winner will receive BOTH tickets*